Deputy Director of Knowledge Unlatched, Dr. Lucy Montgomery (and Director of the Centre for Culture and Technology at Curtin University, Australia) and KU's Partnership Manager Christina Emery will be co-presenting a free webinar on the Knowledge Unlatched Round 2 Collection, hosted by LYRASIS.
After a highly successful Pilot project last year in which 28 scholarly ebooks were funded by 297 libraries all over the globe in order to make them openly accessible, Knowledge Unlatched (KU) returns with a Round 2 Collection of 78 ebook titles.
The webinar will be sharing information about the Round 2 Collection of eight packages, how to pledge, and how KU's innovative open access model is attracting publishers and libraries alike. There will also be a Q&A session.
Date
Wednesday 20 January 2016, 10am EST / 3pm in London, UK / 11pm in Perth, AU (Repeat webinar). Register here.
The webinar will be recorded and an email with a link to the recording will be sent to all registered attendees afterwards.
Previous dates:
Thursday 29th October
Wednesday 11th November (repeat webinar)
Wednesday 2nd December (repeat webinar)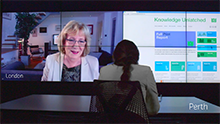 Technical requirements
Before the webinar, you may run an Adobe Connect diagnostic test on your computer by clicking on the following link: http://tinyurl.com/Adobe-Connect-Diagnostic.
Adobe Flash Player 13.0 is now officially the minimum requirement for attending meetings. To receive optimal performance, we recommend that you get the latest version

here

.
You may log in up to 30 minutes prior to the start of the webinar.
If you are running a pop-up blocker, you must turn it off in order to attend the webinar.
If you do not have the ability to install software, please be sure to have an
Administrator
or Power User logged into the computer during the initial setup/login.
If you are using Internet Explorer, you may find it necessary to change your security settings to Medium Low for the webinar; you can return to your regular settings afterwards.
"Lorem modi tempora incidunt ut labore et dolore magnam moditeora incidunt ut labore et dolore magnam."