Featured Author: Anna Bernard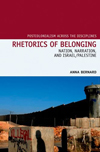 Anna Bernard speaks about her book, Rhetorics of Belonging: Nation, Narration, and Israel/Palestine, published by Liverpool University Press.
What are your hopes for your book, and do you think Open Access will play a role in achieving them?
I hope that the book will reach a wide readership in different countries, and that readers will find it stimulating and challenging. Knowledge Unlatched should make it possible for the book to reach readers across the world, within and beyond academic contexts.
Who would you most like to read your book and why?
My ideal reader is someone who's interested in the relationship between culture and politics, and in the many different kinds of literary responses to the Israeli-Palestinian conflict. I hope that the book has something to offer to readers who haven't read much in this area before, and that they'd go on to read more books by Palestinian and Israeli authors, since an increasing number of literary texts from this region are becoming available in translation into English and other languages. I also hope that scholars and students who are working in this area, or on practices of national narration in other colonial and postcolonial settings, will find the book useful for their research.
How do you think your dream reader might find your book?
I hope that a reader searching online, or in a database or library catalogue, for "Palestinian and Israeli literature," "nation and narration," or "postcolonial studies and Israel/Palestine" would come across this book. It would also be of interest to anyone looking for work on major figures like Edward Said and Amos Oz. But I'd also hope that someone browsing the Knowledge Unlatched catalogue might see this book in the list of titles and be inspired to learn more about these texts.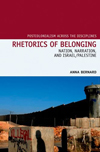 Anna Bernard's Rhetorics of Belonging: Nation, Narration, and Israel/Palestine as well as 27 other titles are available through our Pilot Collection.
"Lorem modi tempora incidunt ut labore et dolore magnam moditeora incidunt ut labore et dolore magnam."