Featured Author: David Sartorius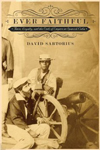 David Sartorius speaks about his book, Ever Faithful: Race, Loyalty, and the Ends of Empire in Spanish Cuba, published by Duke University Press.
Why did you agree to allow your book to be included in the Knowledge Unlatched Pilot?
As a scholar of Cuba, and Latin America more broadly, it's important for me to share my research with the people whose past I study. Knowledge Unlatched makes that possible in ways that costly paper editions do not allow. Issues of price and distribution make much North Atlantic scholarship on Latin America out of reach in the region, and open access facilitates the kind of transnational exchange of ideas that need to accompany the proliferation of other transnational phenomena in our present moment.
What are your hopes for your book, and do you think Open Access will play a role in achieving them?
My hope for the book is for it to be accessible financially to undergraduate and graduate students and, frankly, for it to be accessible through electronic media that those students increasingly prefer over paper editions of books and journals. I also hope that the book will make an impact beyond the North Atlantic community of university academics.
What do your friends/colleagues think about your decision to allow your book to be made available for free under a CC licence?
Honestly, some of them were quite sceptical, mostly those who work in U.S. history, which has a wide public audience whose readership might—might—yield profits for some of those historians. But others are fully supportive of the ethics and politics of open access.
Do you think that making your book available on an Open Access licence will increase its reach and impact?
Absolutely, and this could not be a more urgent concern among scholars of Cuba. The U.S. embargo makes illegal the sale to and purchase of U.S. books in Cuba. Even if those were possible, the price of a paperback copy of my book is more than the average monthly salary of most Cubans. Despite limits placed on internet access on the island,having my book available on an Open Access license allows me to circumvent an outdated policy and allow Cuban scholars to read my work.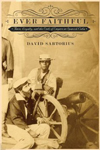 David Sartorius' Ever Faithful: Race, Loyalty, and the Ends of Empire in Spanish Cuba as well as 27 other titles are available through our Pilot Collection.
"Lorem modi tempora incidunt ut labore et dolore magnam moditeora incidunt ut labore et dolore magnam."